Micro-abrasion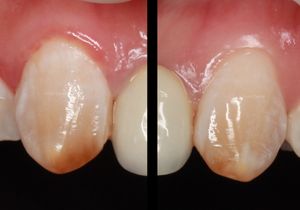 A young lady presented with heavy brown stain on her Upper Canine, which is very obvious when she talk or smile. Therefore, she asked for solution to remove it or cover it, in order to make the smile more pleasant.
The brown stain is known as dental fluorosis. In most cases of dental fluorosis, it is presented with white patches scattered around the enamel surface of teeth. Dental fluorosis characterized by hypomineralization of enamel caused by ingestion of excessive fluoride during enamel formation. It appears as a range of visual changes in enamel causing degrees of intrinsic tooth discolouration.
In her case, we proposed to start with conservative treatment by performing micro-abrasion to remove about 0.2mm of the affected enamel layer, follow by whitening the teeth with 35% Carbamide Peroxide. If this conservative treatment not give a satisfy result, then cover the teeth with Veneer may seems necessary.
The result of the treatment is very encouraging. Although still have mild degree of discolouration, the young lady is satisfied with it.
Micro-abrasion Product

Opalustre™ produced by Ultradent® (USA) , is ideal for removing superficial white and brown decalcification stains due to enamel mottling from fluorosis, Opalustre 6.6% hydrochloric acid slurry contains silicon carbide microparticles. This combination provides chemical stain removal along with gentle mechanical abrasion. OpalCups latch-type bristle polishing cups are used with the Opalustre slurry for micropolishing the newly treated enamel surface.
Benefits:
~One-appointment results
~Removes superficial white and brown stains
~Provides minimally invasive treatment for fluorosis
~Hydrochloric acid aids in chemical stain removal
~Silicon carbide microparticles provide gentle mechanical abrasion
~Less than 0.2mm enamel removal

Treatment Procedure & Result

1. Clean the teeth with pumice.
2. Isolate the teeth with rubber dam.
3. Micro-abrasion to remove the intrinsic stain with Opalustre™.
4. Bleach the teeth with Opalescence Boost™ 35% Carbamide Peroxide, 2 cycles (40 minutes) .

Patient concern about the brown intrinsic stain.
After Micro-abrasion & in-office whitening.
Patient concern about the brown intrinsic stain.
After Micro-abrasion & in-office whitening.
Very obvious brown stain before treatment
The brown intrinsic stain was removed after treatment.